| | |
| --- | --- |
| | Help me find my Corvette! |
---

My '69 Corvette, Bought, September of 1969; sold early 1973, in New Jersey.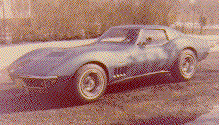 Serial Number 194379S-726297
1969 Coupe
Engine: 427 Cubic Inch
390 Horsepower (L36)
Power Steering
Exterior: LeMans Blue
Interior: Bright Blue
Radio: AM/FM
Rear Axle: 3.08:1 w/Positraction
Transmission: Wide-Ratio 4-Speed ( M20, I believe...) 2.20:1 Ratio
No Air, PB or PW
Cash reward for information or find someone to do this for me...!
Corvette stories of mine....


I first fell in love with Corvettes when a co-worker of mine drove a '63 327 Split-Window Fuelie. He explained how the fuel system worked, with about seven feedback loops for everything from getting the engine started to the wide range of rpms and load conditions.
If I'd had the money, I might have started with the green 427 '67, but I didn't have the cash in hand until the '69s were launched.
The 69s fixed the cowl shake of the 68s, and I imprinted on the LeMans Blue (with bright blue interior) like a duck imprints on its mama.
I wanted a streetable car for daily driving which wouldn't be a pain to drive on the open road OR in stop-and-go traffic, so I did some homework and chose the 3.08 rear ratio and the M20 wide-ratio 4-speed, which had a higher overall ratio in 1st gear than a 3.36 with the close-ratio, so the clutch wouldn't take as much beating to get the car moving.
I put 42k miles on the original clutch and original brake pads, as I loved downshifting and compression-braking for stop lights.
It averaged 12 mpg overall, or 240 miles on the 20-gallon tank.
On one ride into north NJ, traffic kept me to an average of about 40 mph, and after several hours of that, the car registered something around 15-17 mpg! (once, in its life.)
Only two or three manufacturing defects troubled me... the fiberglass belt and glue on the front left fender was poorly applied, and in cold weather, it developed a crack where the two panels met. Fortunately, a great fiberglass shop made the fender better than new for a moderate price.
I went to snug up the brackets that held the parking brake cables to the frame and discovered that they'd been stripped at the factory. Never posed a problem, though.
But the killer was that, after a few years, I thought it might be a good idea to flush and refill the cooling system with new antifreeze, and the gas station mechanic came to me to let me know that the drain fitting at the bottom of the radiator had come off when he tried to remove the plug.
Driving it a few miles to the dealer ruined the water pump and started a multi-month challenge to get the dealer or GM to admit the lousy solder job on the fitting and pay for that part of the repair.
Then, wife and I decided to buy a house and I stupidly suggested that we might not be able to afford the Corvette and the house, so she didn't push back on the idea of selling the car. About eight years later, she became my Ex-Wife and I bought another '69 and the woman I married a few years later made it clear that she would Never Suggest that I sell it.
It sat in the garage too much, so eventually I did decide to sell it in part to get a new daily driver to replace the one I'd worn out... I'd loved that orange 350/350 4-speed, partially because it didn't mind WOT power-shifting on a favorite highway on-ramp.
The guy who bought it did research I should have done, and discovered that the particular engine was a 'prototype first-production-run' engine which may have been hand-assembled! I think that's why it was bulletproof and ran like its tail feathers were on fire.
Since then, I haven't been excited about any of the 'refinements' over the next decades, UNTIL the 2020 model came out. Totally awesome in every way, but now, in my dotage, I'd have to hit a fairly large Lotto in order to justify even trying to get on the buyers' lists... even next year or whenever.
Happy motoring, everyone, and I hope you enjoyed my stories.
---
First rev. 1997
Revised, 07.17.2020